Between the Devil and the Deep Blue Sea by April Genevieve Tucholke
360 pages of creepyyyyyyyy
Rating: 3.5/5
You stop fearing the devil when you're holding his hand…
Nothing much exciting rolls through Violet White's sleepy, seaside town… until River West comes along. River rents the guest house behind Violet's crumbling estate, and as eerie, grim things start to happen, Violet begins to wonder about the boy living in her backyard.
Is River just a crooked-smiling liar with pretty eyes and a mysterious past? Or could he be something more?
Violet's grandmother always warned her about the Devil, but she never said he could be a dark-haired boy who takes naps in the sun, who likes coffee, who kisses you in a cemetery... who makes you want to kiss back.
Violet's already so knee-deep in love, she can't see straight. And that's just how River likes it.
Blending faded decadence and the thrilling dread of gothic horror, April Genevieve Tucholke weaves a dreamy, twisting contemporary romance, as gorgeously told as it is terrifying—a debut to watch.
I know exactly what I was expecting when I bought this book. I wanted a dark romance with a touch of spooky to make my skin crawl and a bad boy to die for. I got what I wanted, alright, and maybe a little too much more... I mean, I love my bad boys, but River West was a whole new level that I'm not sure I can handle. But back to him later.
The whole concept of
Between the Devil...
(Why is the name so long?!?!) was absolutely gorgeous. The beautiful boy with a dangerous and addictive power, the girl who lives in a huge, decaying mansion, and creepy stories to give you chills. I can't get over how wonderfully the setting was built. Everywhere in Violet's town, Echo, was creepier than anywhere I've ever seen, except maybe
The Haunted Mansion
ride in Disney World. There are so many scenes that I just want to gush about, but giving spoilers would probably be inevitable, so I'll try to refrain. The story was written beautifully, but I wasn't all too fond of the characters.
Violet White is this once-rich, kind of stuck up girl, who rented out the guest house (to River) in her family's manor in order to get more money. She's an interesting character, granted, but I couldn't make myself like her. She was too weak and I like my heroines strong. I think she was a
tad
crazy too because she liked River despite all the horrible things he'd done.
But that would mean I'm also insane, because I couldn't help liking him either. I mean, River was a killer who seemed to be perfectly fine with going about murdering willy-nilly based on his own sense of justice, but I was so conflicted! He was just
too sexy
to dislike. I wanted to, but all I could muster up was some disappointment. The extent of the punishment that I'd give him would probably be a wag of the finger, followed by a kiss on the cheek. I think I was actually more upset about him because he was a liar than because he was so bad at being... good. I. AM. FEELING. SO. CONFLICTED.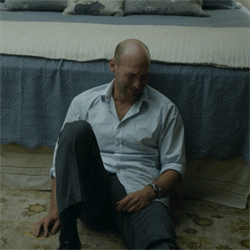 The minor characters I didn't much like. Sunshine, Violet's best friend, seemed too slutty to me. Neely, River's brother, was
alright
. Luke, Vi's brother, came off as a misogynist but I liked him by the end. HOWEVER
,
I loved Jack and Gianni. They were
absolutely
minor and had an approximated grand total of zero lines combined, but they earned a whole half-star for me. There was one moment when Gianni and Vi were kind of flirting, and River heard and got jealous... It was an amazing moment.
I think I'd recommend this to those who like a little scare and aren't afraid to have your next book crush be villain-ish at times, but sweet at others. Someone who likes family secrets and mysteries and bad guys from all ranges on the scale, from Dr. Doofenshmirtz to Lord Voldemort.
Rating: 3.5/5